Rakesh Jhunjhunwala Biography: Death, Net Worth, Age, House, Investments, Family and other details
|| Current Stock Portfolio of Rakesh Jhunjhunwala ||
Rakesh Jhunjhunwala was an Indian billionaire who passed away on August 14, 2022, after suffering from kidney ailments. Check his biography, including his net worth, portfolio, family, wife, etc below.
Rakesh Jhunjhunwala Biography: Veteran Stock Market investor Rakesh Jhunjhunwala passed away on August 14, 2022, at the age of 62 after suffering from kidney ailments. Reportedly, Rakesh Jhunjhunwala was undergoing dialysis on a regular basis as both his kidneys had failed. He was brought to the Candy Breach Hospital at 6.45 am and was declared dead.
Rakesh Jhunjhunwala was an Indian billionaire, business magnate, stock trader, and investor who began investing in 1985 with a capital of Rs. 5,000 with his first major profit in 1986. At the time of his death, Jhunjhunwala had an estimated net worth of $5.8 billion which made him the 438th richest person in the world.
Rakesh Jhunjhunwala, besides being an investor, had also served as the Chairperson and director for several companies and was also a founder of Akasa Air. He was also referred to as India's Warren Buffett or the 'Big Bull of India'. Rakesh Jhunjhunwala was widely known for his stock market predictions and bullish outlooks.
Rakesh Jhunjhunwala: Birth, Early Life
Rakesh Jhunjhunwala was born on July 5, 1960. He was born in a Rajasthani family and lived in Mumbai (then Bombay) for most of his early life. His surname indicates that his ancestors were born in the Jhunjhunu district of Rajasthan.
Rakesh Jhunjhunwala's father was a Commissioner of Income Tax. He graduated from Sydenham College and then also enrolled at the Institute of Chartered Accounts of India.
Rakesh Jhunjhunwala Career
Jhunjhunwala had an interest in the stock market since he had first observed his father talking about it with his friends. Although his father guided him in the field of stock markets, he never offered him any money to invest there. But Rakesh did not stop there and started investing in stock markets just when he started going to college. He invested his savings of 5000 rupees in 1985, which has given him a whopping return of INR 11,000 crores today.
Jhunjhunwala did not just stop there. He was also the proud owner and chairman of Aptech Limited and Hungama Digital Media Entertainment Pvt Ltd.
He was also on the Board of directors of many companies like Prime Focus Limited, Geojit Financial Services, Bilcare Limited, Praj Industries Limited, Provogue India Limited, Concord Biotech Limited, Innovasynth Technologies (I) Limited, Mid Day Multimedia Limited, Nagarjuna Construction Company Limited, Viceroy Hotels Limited, and Tops Security Limited.
Profits:
Rakesh Jhujjhunwala tasted his first profit in the year 1985. It was a small profit of 5 lakh (compared to today). It was between 1985-89 when he earned almost 25 lakh profit from his investments. Carried forward today, his biggest investment is in Titan Company which is more than 7000 crore rupees.
His stakes were also in many private companies like Star Health Insurance, Metro Bands, Concord Biotech etc.
Apart from his business partnerships, he was also a member of India's International Movement to Unite Nations (I.I.M.U.N.). He is one of the Board of Advisors there.
Rakesh Jhunjhunwala Net Worth
Rakesh Jhunjhunwala was a business magnate who was known for his business skills and talent of identifying profitable investments. He began investing in the year 1985 with a capital of Rs. 5,000, with his first major profit coming in 1986.
At the time of his death, Rakesh Jhunkhunwala had an estimated net worth of $5.8 billion, making him the 438th richest person in the world.
At one time, Rakesh Jhunjhunwala was also investigated for insider trading. As of July 2021, the Security Exchange Board of India (SEBI) had settled the issue after the total payment of Rs. 35 crores from Jhunjhunwala and his associates. At the time, Rakesh Jhunjhunwala paid Rs. 18.5 crores and his wife paid Rs. 3.5 crores.
Current Stock Portfolio of Rakesh Jhunjhunwala: Investments
As per a popular website money control, his net worth is approximately INR 29,644 crores and he also owns 35 company holdings.
His major investments are in
Construction and Contracting – 11%
Miscellaneous- 9%
Banks- Private Sector – 6%
Finance- General- 6%
Construction and Contracting Civil- 6%
Pharmaceuticals- 6%
Banks- Public Sector- 3%
Jhunjhunwala was married to Rekha Jhunjunwala, who is also a stock market investor. He has three children.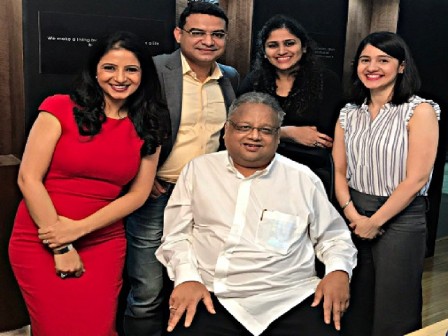 Jhunjhunwala was the 48th richest man in India, with a net worth of almost $3 billion. He contributed to St Jude, which runs shelters for cancer-affected children, Agastya International Foundation and Arpan, an entity that helps create awareness among children on sexual exploitation. He also supports Ashoka University, Friends of Tribals Society and Olympic Gold Quest.
Rakesh Jhunjhunwala has also had his share of controversies and SEBI inquiries. His name was mentioned in an insider trading scam as well. But it has not been proven yet.
Fan and follower of Rakesh Jhunjhunwala always seek information about buying and selling activity of him. In order to help them here is a comprehensive list of Stocks held by Rakesh Junjhunwala, Rekha Jhunjhunwala of Rare Enterprise Equity: Last update Aug 2022.
Rakesh Jhunjhunwala Latest Portfolio Holdings
| | | |
| --- | --- | --- |
| Company | Sector | % Holding in Company Aug,2022 |
| Aptech Limited | Computer | 24.24 |
| Ion Exchange | Engineering | 3.60 |
| Spice Jet | Transport | 1.67 |
| Orient Cement | Cement | 1.22 |
| Titan | Miscellaneous | 5.1 |
| MCX | Miscellaneous | 4.9 |
| First Source Solution | Computer | 3.25 |
| Federal Bank | Banking | 2.93 |
| Fortis Healthcare | Healthcare | 4.31 |
| Lupin | Pharmaceuticals | 1.71 |
| CRISIL | Misc | 5.49 |
| Edelweiss Financial Services | Finance | 1.07 |
| Prakash Pipes | Miscellaneous | 1.53 |
| VIP Industries | Plastics | 1.62 |
| Man Infra Construction | Construction | 1.21 |
| Bilcare | Packaging | 8.48 |
| Geojit Financial Services | Finance | 7.57 |
| Delta Corp | Construction | 7.38 |
| Prakash Industries | Miscellaneous | 1.46 |
| The Madhanta Retail Venture | Retail | 12.74 |
| Dewan Housing Finance Corporation | Finance | 2.46 |
| Rallis India | Pesticides & Chemical | 9.25 |
| TV18 Broadcast | Media & Entertainment | 2.6 |
| Jubilant Life Sciences | Healthcare | 2.9 |
| Tata Communication | Telecommunication | 0.7 |
| Yes Bank | Banking | 0.51 |
| IIFL | NBFC | – |
| VA Tech Wbag | Water Treatment | 8 |
| Tata Motors | Auto | 1.2 |
| NCC | Construction | 13.7 |
| Nazra Technologies | Gaming | 10 |
| Agro Tech Foods | Agri | 8.22 |
| Indiabulls Housing | Real Estate | 2.17 |
| Canara Bank | Banking | 1.59 |
| Nalco | Mining | 1.36 |
| Escorts | – | 5.8 |
| Indian Hotels | – | 2.2 |
| Star Health | Insurance | 14.98 |
Rakesh Jhunjhunwala News & Updates (2015-2022)
Mr Jhunjhunwala, his wife Rekha Jhunjhunwala, and their company Rare Enterprises together have bought a total of 6.25 lakh shares of Escorts from the open market on August 6th,2015.
Rakesh Jhunjhunwala recently purchased 2.24% equity share of Intellect Design. As per latest share holding pattern he has also increased stack in Polaris Consulting, a parent company of Intellect, to 4.99 percent from 4.74 percent during the quarter.
Rakesh Jhunjhunwala buys 1.05% in Jet Airways – Rakesh Jhunjhunwala's RARE Enterprises acquired 11.95 Lakhs shares or 1.05 percent stake in the private airline. The shares were bought at an average price of Rs 422.76, valuing the transaction at Rs 50.52 crore. Following the transaction, shares of Jet Airways surged by 11.28 % on the NSE.
Next Mediaworks is latest stock pick by Jhunjhunwala. He has invested 35 Cr in Next Radio subsidery of Next Mediaworks.
Jhunjhunwala has picked up 7 lakh shares in IT training firm Aptech. He is holding 45.28% stake in this company.
In September 2016, 3.5 Lac shares of Adlabs Entertainment was purchased by Rare Enterprise at 81.86 Rs.
Jhunjhunwala filed application of Rs.750 Cr under ICICI Prudential Insurance IPO and got share of 27 Cr.
Rakesh Jhunjhunwala's Rare Enterprises purchased 12.50 lakh shares of Delta Corp at Rs 106.54 apiece on 17th Nov,2016
On 16th Dec, 2016 RJ buys 12.74% in Mandhana Retail Ventures that hold exclusive license to manufacture and sell Salman Khan's "Being Human" brand cloths.
42.3 Lakh shares of Intellect Design Arena was sold by Jhunjhunwala at average price of Rs.120.
Jhunjhunwala sold 50 Lakh shares of Tata Motors DVR in April,2016.
Ace Investor Rakesh Jhunjhunwala has picked up 1.03% Shares of Jaiprakash Associates and 1.26% shares of Jubilant Life in June,2017.
Jhunjhunwala buys 10 Lakh shares of Prakash Industries via Block Deals on 24th Aug,2017.
Rekha Jhunjhunwala buys 45 Lakh shares of Forties Healthcare on 22nd Aug,2017.
Jhunjhunwala increases stake to 1.64% in Prakash Industries.
Jhunjhunwala invests 180 Cr in gaming firm Nazara Technologies. It is not listed firm. However, it is expected to list next year.
Recently Jhunjhunwala has increased stake in Lupin by 1.92% in Jan,2018.
In Feb,2018 he has purchased additional 10 lakh shares of the airline company SpiceJet.
Jhunjhunwala's Rare Enterprise bought 3 Cr worth share of J P Associates as per bulk deal data on NSE at 15th March,2018.
He has sold 1.4% stake in Titan around 1.25 Crore shares in May- June 2018.
Rakesh Jhunjhunwala has raised 0.83% stake in Jaiprakash Associates during April to June Quarter.
Jhunjhunwala increased its stake in DHFL by 43 basis points in the quarter ending September 2018.
Junjhunwala raised his stake in TV18 Broadcast by 0.4 percent by purchasing an additional 62.5 lakh shares of the firm. The ace investor also raised his stake in pharma firm Jubilant Life Sciences during the last quarter.
Rakesh Jhunjhunwala has raised stake in 4 companies Aptech, NCC, Federal Bank and Jubilant Life Sciences. He reduced the stake in Titan, TV18 Broadcast, Karur Vysya Bank & Lupin.
Jhunjhunwala Net worth is increased by 30 Crore USD compared to March 2019.
Rakesh Jhunjhunwala has increased stake in First Source Solutions in the January 2019 to March 2019 Quarter.
Jhunjhunwala has recently raised stakes in Firstsource Solutions, Lupin, VIP Industries, and DHFL, while reduced his stakes in Titan Company, TV18 Broadcast, Federal Bank, Agro Tech Foods and CRISIL in April 2019.
In Q1, FY 19 Jhunjhunwala has purchased new stock Prakash Pipes.
In the month starting July 2019, Rakesh Jhunjhunwala has increased his stake in Titan and SpiceJet. He has reduced his stake in First Source, Federal Bank, Lupin and Dewan Housing Limited.
Rare Enterprise buy additional 1% stake in Jubilant Life Science in June-July,2019.
According to bulk deal data seen on BSE, Rekha Rakesh Jhunjhunwala purchased 19.65 Lakh shares of Tata Communication estimating value 73 Cr via open market transaction.
In the quarter ending September 2019, Jhunjhunwala has sold 49 Lakh shares of Titan Company. The share holding of Rakeshji in Titan is reduced to 5.10% from 7.05%.
Jhunjhunwala has increased his stake in MCX from 3.92% to 4.8% in the quarter ending September 2019.
As per latest information Jhunjhunwala has purchased 0.51% stake in YES Bank.Total value of bulk deal was 86.89 Cr.
As per latest information January 2020, Jhunjhunwala has purchased 27.85 Lakh Shares of IIFL Securities with average price of Rs.42.83.The bulk deal value was 12 Cr.
Jhunjhunwala cuts his holding into Titan share in the March-April 2020. He sold around 1.03 Cr Titan share in the last three months. This is as per data available on the BSE website.
Rakesh Jhunjhunwala has increase stake in VIP Industries stock from 1.42 to 1.62% in the Month of May-2020.
Big Bull Rakesh Jhunjhunwala has started picking stocks which are available at the attractive pricing. Stocks where recent investments made by the billionaire and his wife Rekha Jhunjhunwala in the June 2020 quarter are Autoline Industries, Dishman Carbogen Amcis, Edelweiss Financial Services and Indian Hotels. He has also pumped more money in his existing portfolio stocks like NCC, Firstsource Solutions, Rallis India, Federal Bank and Delta Corp.
Rakesh Jhhunjhunwala and Rekha Jhunjhunwala has purchased 50 Lakh shares costing 80 Cr in VA Tech Wabag on preferential basis in September 2020 end. This is equivalent to 8% of Stake in the Va Tech Wabag.
Tata Motors is latest pick by Jhunjhunwala. As per latest information RJ has purchased 4 Lakhs shares of Tata Motors in September 2020 quarter.
Rakesh Jhunjhunwala & his wife Rekha Jhunjhunwala, and group companies raised shareholding in the construction firm NCC to 13.7 percent.Total 10 lakh shares of NCC was purchased by RJ in Nov-2020.
Rakesh and his wife Rekha Jhunjhunwala sold shares of Titan. Total 18 Lakh shares of titan is sold by Jhunjhunwala in January 2021. He still holds 4.7 crore shares of Titan. He has also cut his stake in the chemical manufacturing firm Rallis India. Total 7.25 Lakh shares of Rallis India is sold by him recently.
Jhunjhunwala sold 150770 shares of Ion Exchange in the month of Feb,2021.
In March and April 2021, Jhunjhunwala increased its stake in Fortis Healthcare, TV18 Broadcast, AgroTech Foods as well as MCX.
Rakesh Jhunjhunwala buys 1 crore shares or 2.17 stake in Indiabulls Housing Finance in Apr-Jun 2021.
Rakesh Jhunjhunwala buys 1.59% of Canara Bank or 2,88,50,000 equity shares of face value Rs 10 each in Aug 2021.
Rakesh Jhunjhunwala has made a fresh entry in NALCO, a mining, metal, and power company.He bought 2,50,00,000 equity shares, aggregating 1.36 percent stake in Sept 2021.
Jhunjhunwala raised his stake in Titan by 20 basis points sequentially to 5.1 percent; in Tata Motors 10 bps to 1.2 percent; in Escorts 40 bps to 5.2 percent; and in Indian Hotels 10 bps to 2.2 percent in Dec 2021.
Rakesh Jhunjhunwala holds 14.98 percent in Star Health Insurance. Star Health Insurance listed on BSE in Dec 2021.
Jhunjhunwala has increased 0.6% stake in the commercial vehicle company Escorts in month of Feb,2022. Escorts has given 280% returns to R.Jhunjhunwala in last five years.
Current Stock Portfolio of Rakesh Jhunjhunwala
5 Secretes that make Rakesh Jhunjhunwala Successful Investor
#1 Capital
To make money you need money, this may not be true in many cases but in the case of the stock market you need a lot of capital to become zero to hero or to become a successful billionaire Investor.
But another big thing is capital can be made also. This is what Rakesh jhunjhunwala has done. How he has gone from a starting capital of Rs 5,000 to a net worth of a few thousand crore rupees is now the stuff of urban legend.
Rakesh Jhunjhunwala said in one of his interview – "I had no capital when I came to the markets, and no father gifts and no father-in-law gifts. So I had to earn the capital to invest. How do you invest if you don't have the capital? And I got the capital by doing future trading."
In 1985 when Rakesh Jhunjhunwala has started 5,000 Rs/- was said to be good capital for investment today you at least required 2-3 Lakh as initial capital to start investing in the stock market.
#2 Knowledge
In today's world for every business or job, you need relevant experience and skills. Without knowledge and experience, one cannot get a good job or cannot establish a good business. The same is true in the case of investment & stock market.
You require specific knowledge and skill sets to become successful like Rakesh Jhunjhunwala.
Rakesh Jhunjhunwala said "Markets are about money, but markets are also about knowledge. Markets are also about egos; markets are also about the satisfaction of having been proved right. Especially, when that right is from an original thought and not from a guided source or following somebody."
You need to do a lot of research, a lot of data gathering, and a lot of knowledge accumulation before investing in the stock market.
#3 Right time Right Decision
For every investment you make a time of investment matters, especially in the stock market, you have to be selective and have to pick the right stock at right time. Rakesh Jhunjhunwala is the master of that, he picks the correct stock at the correct time.
He made his first big profit of Rs 0.5 million in 1986 when he sold 5,000 shares of Tata Tea at a price of Rs 143 which he had purchased for Rs 43 a share just 3 months prior. Between 1986 and 1989 he earned Rs 20-25 lakhs. His first major successful bet was the iron mining company Sesa Goa. He bought 4 lakh shares of Sesa Goa in forward trading, worth Rs 1 crore, and sold about 2-2.5 lakh shares at Rs 60-65 and another 1 lakh at Rs 150-175. The price rose to Rs 2200 and he sold some shares.
So right from the beginning, he has the quality to select the right stock and click the correct deal at the correct time. This is an important quality to become successful in the stock market.
#4 Patience
Controlling emotion and keeping patience is extremely important in the stock market. The stock market moves upward as well as downwards. During a downtrend or during a market crash one should maintain patience. In other words one should have faith in investments made in stocks.
Jhunjhunwala's stocks fell by up to 30% in December 2011. But he has the quality to keep patience and that patience pays its fruit. He recovered his losses in February 2012. This year his portfolio has given around 35% returns.
#5 Vision
I believe that if a person can dream up something he/she can do it. It may take time and effort and persistence but it's not impossible. I believe dreams are worth fighting for because they are a representation of our truest selves and our innate abilities.
In the word of Industrialist Dhirubhai Ambani "Only when you dream it you can do it." Or "For those who dare to dream, there is a whole world to win!"
According to me, Rakesh Jhunjhunwala is a visionary. He started with a capital of Rs 5,000 in 1985 and now in 2022, he is sitting on a portfolio worth 33350 Cr. To start with Rs 5,000 and to reach Rs 33000 Cr in the stock market is indomitable. He sees Dreams and can turn a dream into reality.
To be successful in the stock market like Rakesh Jhunjhunwala one must have a vision.
There could be many other factors responsible for the success of Rakesh Jhunjhunwala but preliminary I could find the above 5 things which make him successful in the stock market.